This past week since the last post has been pretty insane. My workload has tripled and my pets have doubled. I am now happy to say I am the proud owner of a dog! I rescued a puppy here in Tijuana last Friday and now my life is forever changed. Here's what we're getting into today:
1. Flea Market Finds in Tijuana
2. Rescuing a dog in Tijuana
3. International pet travel between US & Mexico
4. The best bars to drink/dine with your dog in San Diego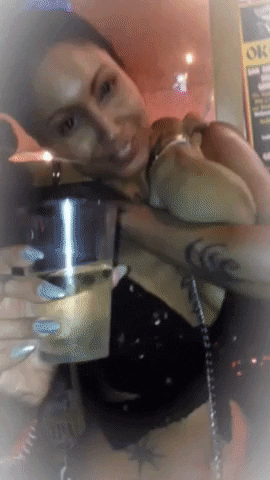 Let's start with where I get the vast majority of my ever expanding and evolving wardrobe from. The Tijuana flea market. Specifically the one in my area of Playas de Tijuana which happens every Monday. My favorite thing about starting off each week that I'm not on the road is starting it off in style with amazing deals. In the video below is where it all began for the Metal Mouth Style blog last year. Press play to join me as we take a walk though the market, meet some puppies (more on that later) and snag some insane designer deals.
As you can see from the video not only where the clothes amazing but so was that puppy! That little girl stole my heart that day. She belonged to one of the street vendors. That vendor had given me her number to let me know when she gets new items so I could have first pick. Come to think of it I basically not only got my wardrobe at the flea market I also got my dog there! Coming home from LA I had got this text from the street vendor below.
Click to enlarge image
Style Breakdown:
Dress
Windsor
TJ Flea Market: (Retail $50) $4
Shades TJ Strip Mall: $7
Total Look Cost: $24
Needless to say that the timing of me having a rabbit for the past 2 years as my "starter pet" for a dog just seemed right. I was thinking about this puppy while I was away and now I came home to her in desperate need for a home herself. When you bond with an animal it's a crazy feeling. I knew if I didn't take this opportunity that I would regret it. Not only that but also suffer massive guilt from letting an animal I bonded with disappear into obscurity. Operation Tijuana dog rescue began and I managed to pick her up on the other side of town 2 days later.
On route in Uber home post rescue
This is California! My rabbit's name is Baja and since I have went through serious life changes moving from Los Angeles to Baja California I decided name her California (Cali for short). It represents growth in and out of both of these places I have called home and have a lot of history in. Now home for me is wherever my animals are.
We spent all of Friday running around town getting all the puppy things I could possibly find. Food, treats, toys, bed, and a visit to the vet. Whenever you get a new animal that should always be the first stop you make. Assessing what kind of health the animals is in before something happens is key to preventative healthcare (both for humans and pets.. duh!). Luckily for me California is in great shape and was only missing 2 vaccinations that the previous owner had not yet given her. We got her set up with the rabies vaccine so she could cross the border with me as that is required by US law. Also, why wouldn't you vaccinate against having a rabid animal? Has no one seen Cujo? Her second shot is due in 2 weeks and then she's all set. I'll be sure to bring you along for that vet visit so you can see what it's like here in Tijuana.
After being up until 5 a.m taking California outside all night (paranoid she might pee in my bed) we started packing for San Diego. I had this girls night planned for weeks to see my good friend Rachel (who will be featured on a future blog with her restorative furniture business). I was a bit paranoid of what it would be like crossing the US border from Mexico with a dog as a Canadian expat. Only because I had never traveled with an animal and wasn't sure if there would be some sort of secondary inspection involved. The whole ordeal was pretty painless surprisingly! So long as you carry your vaccine cards on you and the animal appears to be in good health you are good to go.
On Saturday (Day 2 with pup) in San Diego I was determined to not leave California alone at all that day. Soon she will have to learn how to deal with being away from me in the evenings for nights out. However, for our first week together I want to make sure she's comfortable and knows she won't be abandoned. Thanks to some Googling I was able to curate a day/night of social activities around my dog.
Out First stop was at the
IB Forum Sports Bar & Grill
. It's one of the few dog friendly restaurants in San Diego. It looks like a total dive from the outside and is very unsuspecting. Pluses is that they have their own parking lot. Being that this was a Saturday in the Summer near the Imperial Beach boardwalk parking was tragic.
I love being surprised by places and IB Forum definitely did that for me. From a nice friendly greeting at the front of house upon walking in to an equally friendly server. We sat at a booth in the bar area where you can easily take over the tunes on their digital jukebox. The crowd was low brow and casual. It feels like all the things America used to be in the 90's. It's an easy place to bring your dog without any hassle, enjoy a drink and some decent bar fare without any pretense.
Next up, an outfit change at Rachel's house before a night out of drinking with my friends and dog.
Click to enlarge
Style Breakdown:
Top TJ Flea Market: $1
Shoes
Prada
TJ Flea Market: (Retail $500) $4
Total Look Cost: $9
Relying heavily on Google Saturday it led us to our next dog friendly destination.
Hamilton's Tavern
in South Park. Where California quickly became the star of the evening. By the end of the night she even made some new friends. One thing I am going to have to get used to is people asking to take selfies with my dog. Press play on that video below to see a preview.
Hamilton's is seriously what dive bars are supposed to be. Hell, it's what all bars should be which is SOCIAL & FRIENDLY. For the first time in a long time the bouncer wasn't a dick to me when checking ID's. The bartenders although slammed where all quick to greet and serve us drinks. Our fellow bar patrons where all easy to chat with and it was all around a really great bar atmosphere. I'd come here even without my dog. 10/10 if you want to be mellow & listen to nostalgic 90's music go here.
P.S The Pinto Grigio in a can is to die for!
My new favorite part about waking up every morning is to this face. This one here is too tiny and adorable to leave in a crate at night. Even on a hangover California makes this life I'm living all that much more worth it. Now seeing that there are some places I can still enjoy nightlife with my dog makes me feel like there's a whole new world to discover. The dog world! Dog dive bar tour across America anyone?
Sunday morning/afternoon it was time for me to get my shit together and cross the border. This time back to Tijuana. I knew going into Mexico there would be zero issue with getting California back into the country. After seeing how simple it was getting her to the US I knew that we can now do just about anything together. The best part about our trip home was that we had the best Uber driver who played Skinny Puppy & Ministry! Anytime I get to listen to industrial music in an Uber I am very happy. California dug Ministry too. Press play below to see our trip back home.
It was was a very successful overnight trip to and from the border. Instead of feeling like your social plans have to be dampered by your pet make your social plans around your pet. That's what I learned this past weekend. I won't always be able to take her out to events/socializing with me but whenever I can. I will.
Click to enlarge
Style Breakdown:
Shades TJ Flea Market: $5
Total Look Cost: $25
I am so happy to be home in style with my new best friend. My life motto has always been to stay open to all new positive experiences. This is bar none one of them and knowing I have the ability to care for not just one animal but 2 is a pretty groovy feeling. We must get outside of ourselves as much as possible and pets show us the way.. so do psychedelics & meditation but that's a story for another day.
About Me: My name is Tiffini Truth and I'm a Power Tool Performer!
My album "
Screw You
" Is out Now Streaming Everywhere!
Track 1 – Socket Screw You
I love style and this blog is my way to share my personal style experience with you when I'm not performing my live show in my home studio. I have a weekly Podcast
"The
Metal Mindset
" where you can learn how to have a mindset as strong as steel. "
This Week In Metal
" is my Metal Art Youtube series, Season 1 is streaming now. Season 2 is coming in 2020.
Subscribe to
My Patreon Page
so you too can also get the look for less online with my personal styling advice and much more!
See you next week for more Metal Mouth Style.