Over the weekend I got around to catching up on the latest Netflix release of Dave Chappelle's Special "Sticks & Stones". This Summer has been filled with a ton of travel between USA & Mexico for me so it's nice to be still at home for a little while. It also helps me think deeper when I'm not travelling as often. As important as it is to travel it's equally as important to not be distracted by your surrounding and stay still. With that all being said now that I have my deep thinking cap on.. here is what we're covering this week on Metal Mouth Style:
1. Why do people with all the money/access in the world still dress like assholes?
2. Why Dave Chappelle is clearly not an asshole but still dresses like one?
3. How Dave Chappelle should be dressing at a quarter of the price?
4. My favorite personal style moments from the week featuring California (my puppy)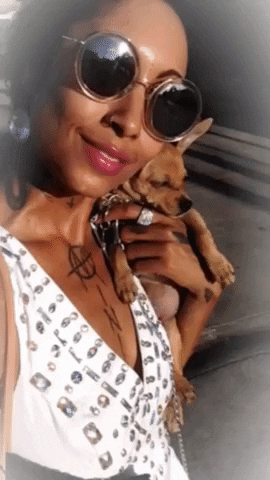 California & I 9/22/2020
Why is it that people who have all the power/money/access (money and access are pretty much one in the same in this world) still dress like assholes? I don't exactly have the answer but I have a couple hypothesis on this subject. One may be that they are so well off that most things come far too easily. Therefore they no longer feel the need to dress to impress anyone, let alone themselves anymore. Which is a damn shame because the only person you should be dressing to impress is yourself. Once you loose that it's of my belief that a part of you dies. Sometimes… forever. Self worth and Net worth are not at all one in the same. That's why I constantly stress the importance of putting our best foot forward each day.
My second possible suggestion is that these people who have the means to dress well and simply do not actually think that they look good! With a total disregard for tailoring and fit these people are actually so diluted they think that wearing things that do not fit/compliment their shape actually looks good. Totally and utterly diluted.
This brings me to why Dave Chappelle is not an asshole but clearly dresses like one.
Why Dave? A One Piece Janitor Suit? Whyyyyyyyy?
I've dug Dave Chappelle since his Half Baked days. As a child of the 90's I grew up smoking weed to that movie (among many others of that era). Now, I say that he's not an asshole because I don't want to assume the worst of someone I do not personally know. However, most celebrities…are. Just like most people are. Not all but most. It's just the way the world looks from my eyes. In business there's the 80/20 rule. I believe that same rule applies to life, assholes and actual kind people. 80% assholes 20% kind. Notice I do not say "Good" because good is far too often categorized under some religious ideal. I prefer kindness over good any day. Anyone can be kind but being good starts to look too much like your trying to fit into a predetermined ideal under some type of status quo.
In my mind I want to think that Dave Chappelle is the nice guy in Comedy not the asshole. Which is why I'm only ripping him on his wardrobe today because his latest special really slayed it for me. I give
Sticks & Stone
s a solid 10/10/. Some of Dave's best work. I did not find it defensive at all unlike it's
scathing
reviews online.
Let's get into the style portion of this post today shall we! Behold friends & followers the Douchebag/dress/shirt below.
The dude with the palm down prayer hand pose.. twice… Bro
Click to enlarge
This over-sized bullshit cotton dress in disguise as a T-shirt for men has bothered me since it became mainstream in 2015. At that time I was living in Toronto and downtown Queen Street on a Friday night was a sea of these. So was the Thompson Hotel. Here we are 5 years later, far past the trend and it just will not fucking DIE. Case in point Dave Chappelle's Netflix promo poster for his stand up special in 2019 below.
If you have a stylist Dave..Fire them!
Dave is clearly sporting the carbon copy of the Douchebag attire program. The only thing I approve of in this look are his shades, pendant, and sneakers. I believe the sneakers are Rick Owen's. If I'm wrong feel free to correct me in the comments section below. For that reason I've taken it upon myself to only replace the Doucehbag/dress/shirt and the wannabe pleather jeans in the outfit below. He can keep the accessories and shoes.
Total Look Cost: $53.86
Click to enlarge
By simply going for a slightly more structured shirt that cuts below the stomach but above the crotch line it compliments Dave's taller stature. A V-neck also draws in his broad shoulders a bit more so the eyes are drawn more to the face line. Instead of the Douchebag dress/shirt swallowing half his body with jeans making only a cameo at the bottom. This breaks up the look in a much cleaner way. Going for a moto pant adds more edge than the pleather looking pant.
Let's move onto his "Casual night out on the town with my ever so important overly hyped celebrity friends" look shall we? I will be happy if I never saw a photo of Dave Chappelle and anyone whose overly famous and we're already sick of seeing ever again.
80's Dad footwear that costs $500+ a pair? Whyyyy Dave? Whyyy?
As you can see this Douchebag/dress/shirt just will just not quit! I believe this may be the same grey one he is wearing in the Netflix promo poster earlier. One thing about promo looks is that they should be just that. Unless you wear the same thing all the time (otherwise known as a "uniform") your promo looks should be for shoot day only. It's kind of an unspoken rule to not shoot in the same thing more than once publicly when your a public figure. Again, fire your fucking stylist. At this point I'm convinced you have one and it's pissing me off that their making you look like your trying to "look cool" when you are cool. Meaning you should look like yourself! Not like anyone else impersonating themselves.
Total Look Cost: $67.16
(Click to Enlarge)
I cleaned this casual look up quickly just by tossing those disgusting Yeezy's out the window and went for a thick white soled black leather
sneaker
. Comfort and streamlined style. We burned the Douchebag/dress/shirt this time to ensure it cannot be resurrected. Then replaced it with a fitted
cap sleeve tee
. Since Dave clearly seems to like being a bit flamboyant I chose the one with text to add some flair. The pants where not horrible but they weren't great either. That's why I upped the ante with a more tailored
straight leg jean
. Instead of the bulky grey oversized jacket let's go for slightly
destroyed denim jacket
in white to add a more fitted edge.
Last but not least Dave's SNL appearance earlier this year. It was a great skit no doubt. However, this denim almost military style didn't hit the mark for me. It just felt boxy and ill fitted. Do we really need the patch to know your last name? I'd say you can safely leave all name tags at home moving forward Dave. We know your special.
Total Look Cost: $90.52
Click to enlarge
Structure equals style for all. If Dave wanted to stay in the monochromatic sphere with the all blue hues he could go for the
blue long sleeve
or maroon. Both would compliment his skin tone impeccably. I wanted to get rid of the endless waves in his denim pant legs with a more
slim/slightly skinnier fit
. Get out of the bulky jacket and get into this nicely
fitted denim jacket
with fleece lining. It will actually keep you warm as a layer and not just cover your body. Function and fashion baby. This lends nicely into a pair of proper biker boots to finish the look off. Military esque style, no name tag required to look like an authority of your own style.
Less of this Dave 2019…
More of this Dave 2014…
Clean lines and proper fits is all we need to look good. Not millions/thousands/hundreds. Not name brands. Not how everyone else is dressing. I cannot stress this enough. It's the entire reason I started Metal Mouth Style in the first place. To show you each and every week week how you can get the look for less. No matter where you live there's a deal right around the corner if your willing to look for it. If not then hop online and there's plenty to be found. If your still stumped/lack energy/time you can get my advice
here
.
Whew! My work dissecting Dave Chappell's style is now done. To end the post here's a look back at my 2 favorite looks from last week that I wore around Tijuana. Puppy training is kicking my ass right now but I know it will be well worth it in one year when I have the most obedient dog in Baja California. Which actually won't be much of feat in this region as most dogs are un-trained, off leash, and neglected. That's why I rescued California in the first place.
Saturday Grocery Shopping 9/21/2019
Click to enlarge
Style Breakdown:
Jumpsuit TJ Strip Mall: $10
Bag TJ Flea Market: $4
Total Look Cost: $39
Sunday 9/22/2029
Click to enlarge
Style Breakdown:
Dress
Guess
TJ Flea Market: $3
Total Look Cost: $13
About Me: My name is Tiffini Truth and I'm a Power Tool Performer!
My album "
Screw You
" Is out Now Streaming Everywhere!
Track 1 – Socket Screw You
I love style and this blog is my way to share my personal style experience with you when I'm not performing my live show in my home studio. I have a weekly Podcast
"The
Metal Mindset
" where you can learn how to have a mindset as strong as steel. "
This Week In Metal
" is my Metal Art Youtube series, Season 1 is streaming now. Season 2 is coming in 2020.
Subscribe to
My Patreon Page
so you too can also get the look for less online with my personal styling advice and much more!
See you next week for more Metal Mouth Style.