Wow! That titles a mouthful but it's true! I pull inspiration from a lot of things, places, and people for my looks and today encompasses all three.
Here's the breakdown of the 3 points of interest and how it pertains to today's look in particular.
Thing – The Movie Pulp Fiction (My favorite)
Place – Canada (Where I was raised)
People – Sade (Who I look up too)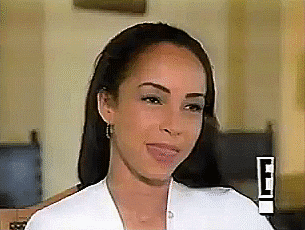 I remember growing up as a little kid not having a good home life. I often would fantasize that certain entertainers would be my parents instead of the one's I had. Often it was Sade being my Mom instead of the one I was born from. She was one of the first female artists I really connected with at the age of 8. It was a way for me to temporarily escape insanity by putting myself in different places with different people in my mind. It's something I've heard a lot of prison inmates do to get through doing years of hard time. That essentially was my entire childhood. A prison that I am eternally grateful to be free of now as an adult.
The denim is nod to my time spent growing up in the Rockies of Canada as well as Sade's timeless photo look.
The Pulp Fiction patch is actually a cut out from an old T-shirt I was given by a friend in Cabo a few years back. It started out as a
Men's
T-shirt, then I cut off the sleeves and sheared the front and back to turn it into a side boob shredded top. At the time I was all about side boob cut out shirts. I'm personally glad those days are over. I was not in my right state of mind. The logo however was too good and too rare for me to totally part with. I cut out what was left of the fabric and turned it into a patch instead.
Style Hack: Creative Patchwork! I highly suggest you re-use your old logo Tees by turning them into patches instead of in the trash. You can hand stitch the cut outs onto almost anything that is plain and needs a re-vamp. Tote bags, shirts, pant pockets, the list goes on with patchwork. It's a killer way to customize your style and tell your story.
In closing, if your going through it and in a less than savory environment. Remember that tapping into positive inspiration is your way through this. Everything is temporary in this life. Including life. Make a plan, be patient and then get the fuck out.
Total Look Cost:
Jeans Tijuana Street Shop – $5
Leopard Tote Bag Tijuana Street Shop – $3
Total Look Cost: $15
About Me: My name is Tiffini Truth and I'm a Power Tool Performer!
I love style and this blog is my way to share my personal style experience with you when I'm not performing my live show in the studio. I have a weekly Podcast "The Metal Mindset"
which goes live every Wednesday at 12pm PST. "
This Week In Metal
" is my Metal Art Youtube series which goes live every Friday at 6pm PST.
Subscribe to get my personal styling advice on
My Patreon Page
so you too can also get the look for less online!
See you next Monday for more
Metal Mouth Style
.