I'm back at my home in Tijuana writing about my recent trip back to LA today. I left on Aug.31st for the Pasadena Daydream Festival and returned Sept.3rd. Now that I'm decompressed and back on my work out/work mode schedule I can really dig in and give you the best reviews of this 4 day 3 night trip. Here's what we're going to cover today:
1. The Pasadena Daydream Festival (Why it was a nightmare)
2. My 2nd Couch surfing Experience (Why it was a Daydream)
3. Places I dined & drank while in Los Angeles
4. The best and worst dressed on my Greyhound trip home from DTLA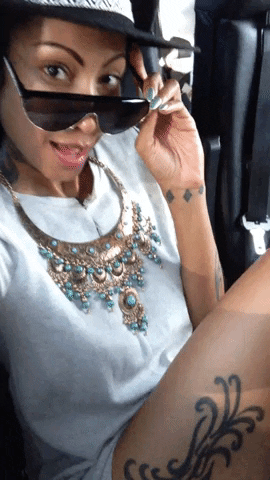 Sept.3rd Riding Greyhound Back to Tijuana
Let's start with Day.1 The Pasadena Daydream Festival put on my Robert Smith from The Cure. The reason it was a nightmare was not because of the line up. The bands where all playing in fine form and Robert Smith clearly has great taste in music to select such a killer line up (old/new). I got there in time to see the last 3 acts. I wanted to time my arrival when the sun wasn't at it's peak arriving at 4:40pm (The event started at 1pm). Deftones where in the best shape I've ever seen them. Chino Moreno was screaming like it was 1998 all over again and the band was hella tight. Pixies did their thing although I'm only a fan of a select few of their songs. They still had great energy. The Cure! All I can say about seeing them for the first time is that their sound is too good to be true. Thoroughly impressed by the musical talent. That part did in fact feel dream like. I was honestly so hyped on this event that it is a damn shame I have to give it such a negative review at the end of all that.
The Pasadena Daydream Festival was a nightmare due to the total lack of organization for such a high ticket price ($177 USD for General Admission $300 for VIP) . When you go to an outdoor event so many other factors take place to make it a good experience outside of the music. For example security, staffing, signage, set up, lighting, shaded areas, drink/food options, restrooms, the crowd etc.. I myself am not a festival goer. I haven't been to a festival since I was a teenager and for good reason. It's simply far too many people to get that intimate of a music experience that a smaller venue/event brings. Also… Porto Potties SUCK no matter which way you slice it.
Press play for the footage of the Festival
As you can see from the video above someone passed out due to heat exhaustion right behind where I was standing taking in Deftones. I saw this happen several times throughout the festival that day due to the total lack of properly shaded areas outside of the VIP area. It was about 100F in the sun that day and people where dropping like flies.
Out of the $177 USD for the ticket price I feel I got about a $80 value based solely upon the line up. Security was rude (except for 1 person who actually welcomed me to the fest after passing a bunch of rude security), the bare bones staff they had scattered around the grounds where rude and mostly impossible to find if you had a question. There was only 1 area to get drinks and I never saw where the food tent was. There was no signage letting you know which stage was which (there where 2 stages) There was no signage at all throughout the entire grounds to direct you to food/drink/restroom areas which led to no one knowing where to go. The only shaded area in the field was the VIP area by the stage. If you paid for VIP you paid $300 for shade, a spot closer to the stage and a parking pass. That's pretty much it.
Style Breakdown:
Dress
Nasty Gal
TJ Flea Market: (Retail $200) $5
Gladiator Sandals TJ Street Shop: $3
Shades Hollywood Blvd: $5
Translucent Backpack: $0 (Gift)
After the festival I was so close to cutting my trip short and coming back home. I was in such a foul state of mind after (despite arriving later) still being stuck in the sun all day, sandwiched between an anti social American Eagle wearing crowd and also, feeling a bit ripped off from the experience in general. I had actually booked a bus back to Tijuana that very next morning. I packed my bags and got my final outfit together ready to leave LA Sunday morning. Then… I met my couch surfing host Galen and his chill demeanor changed everything!
Press Play To See My Couchsurfing Crew!
This now marks my 2nd
Couchsurfing experience
and bar none best! I'm so happy to have met this crew of people and I even made a friend with another surfer who was also there this trip. This is why I am using Couchsurfing. To meet people and expand my friend circle in an ever increasing anti social world. That all happened for me this trip which is why I decided to stay for the remainder of my trip. Thank YOU so much Galen, Masha & Chris for being so damn… cool.
Sunday
Day.2
I grabbed some cafe brunch bites with my fellow couch surfer Stella that was right across the street for the building we where staying in DTLA. Being in the fashion district made things very convenient. Walking friendly and lot's of great places to eat/drink on every corner. Like
ilCaffe
! Where I had an incredible Mozzarella Sandwich.
Style Breakdown:
Total Look Cost: $22
Post Brunch I met up with my fellow Artist friend Allen for Lunch at
Perch
. Another place I highly recommend. You can take the tour inside Perch with me below. That's Allen in the end of the tour on the rooftop. Follow his fantastical out of this world illustrations
here
and I'll also be doing a more in depth artist feature on him in a future post.
Great service, friendly staff, killer ambiance, & skyscraper views.
10/10
448 S. Hill St. DTLA
In no time it was nightfall an I had to get into my Sade inspired outfit (I've channeled her before here) for the evening. My buddy Toledo Diamond plays a pretty incredible Blues/Cabaret show every Sunday at Harvelle's in Santa Monica. I met Toledo about 4 years ago when I used to live in Santa Monica. This man is part of the furniture of Los Angeles with deep musical roots embedded in the city. He blew my mind then and he still manages to blow my mind now. I've seen his show countless times now and it never gets old. I was really glad I stayed my full trip despite having a bad first day to get to see him play again. Harvelle's is also a great bar for it's social climate on Sunday's. Everyone chats there so it's a great show to attend solo. You won't ever be alone for long if your not afraid of talking to your fellow bar patrons.
Total Look Cost: $5
Day 3 leads us into Monday. My last full day/night in LA. I didn't go out that day. Instead I was laid up all day with a massive hangover and Pedialyte. However, by nightfall I pulled it all together and got to go out with my awesome Couchsurfing hosts for dinner. Their Vegan so we went to Restaurant called
Sage
Vegan Bistro in Echo Park.
At Sage the Service was great, we where all welcomed upon entry, seated upstairs overlooking the place was nice too. Nice, chill, laid back yet upscale environment. I had the Lasagna and did not miss the meat in the slightest. We all shared the mac 'n cheese pizza which was also pretty baller I must say, I'd go here again. As much as I love meat I equally love to mix it up. This was a great change of pace for me.
After Sage we headed back to DTLA and I got to check out
The Ace Hotel
for the first time. I'd stayed at The Ace in
Seattle
before but I'd never been to the one in LA. We went upstairs to the Rooftop for drinks although there is a nice lounge area downstairs as well. There's a hot tub/pool area on the rooftop patio open to everyone at the bar. That was pretty unique to this space. Great decor.
The drinks where a solid "Meh" for me. I asked for an extra dirty Vodka Martini. It was not extra dirty nor did it come in a Martini glass. At $17 a drink you'd think they'd put forth a bit more effort in that department. Proper glassware for drinks is really important when bar-tending. For that I was not impressed but the decor is on point. It's a place you should go with company as there's no seating areas at the upstairs bar to meet people and the crowds all keep to themselves for the most part.
Top Sam & Lavi TJ Flea Market: (Retail $50) $3
Skirt Nasty Gal TJ Flea Market: (Retail $150) $4
Satin Shoes TJ Street Shop: $4
This brings us to Day 4, Tuesday in LA before I had to catch my bus back home to TJ. I did 2 outfit changes that day. The 1st look was my lunch outfit. The 2nd was my Greyhound "Going Home" outfit. It's currently very hot in LA (90F each day on average). I wanted to wear something light before I got on a cold air conditioned bus ride back home in immense labor day long weekend ending traffic.
Look 1 For My Last Lunch In LA
Style Breakdown:
Silk Sri Lanka Pant TJ Flea Market: $4
Total Look Cost: $11
When it comes to best dressed on the
Greyhound
I took the #1 spot that day. I know this because the staff all mentioned how much they liked my look. From Security to the Drivers. I also saw no one dressed with even a modicum of effort in the station. Which is a damn shame! I want to personally revive the days when people would travel in style. Whether it be a bus, plane, or train. I loved that about the 50's & 60's eras is that is was deep rooted in maximum effort and attention detail.
Now we get to the worst dressed looks at the Greyhound Station in DTLA. The lady in what I want to call red? She was actually on my bus and glared at me the entire trip home from her seat. I wasn't going to put her look on blast because clearly, her life is hard enough as it is… but now I am. Purely based on her reaction to me existing in this world minding my own damn business.
It's not body shaming if your telling the truth and all I have to say here is… I don't want to see this much body on anyone who cannot cover their underpants while wearing pants. Period.
Our 2nd worst dressed at the Greyhound station out of DTLA was not on my bus. He was in the waiting room. I don't know why the crazy people always sit by me but.. they do. This guy kept saying "Shiiiiiiiiiiiiiiiiiiiit" while staring at me with dead eyes. This went on for about 5 minutes. At which point it made me too uncomfortable. I got up and decided to stand in the line waiting for my bus to arrive rather than be anywhere near the waiting area. That's why he get's next worst dressed on the list.
If you have a bad attitude and a bad look you deserve to get roasted. As you all can see from Metal Mouth Style it doesn't cost much to put your best foot forward. It's all about the effort you make and your personal style at the end of the day. If you have a bad look and a great attitude you deserve to do and feel better! It's important for our insides to match or exterior. That's my rule for life. My last LA look is next.
Greyhound Home Look
Style Breakdown:
Denim Shorts TJ Flea Market: $4
All in all this was a great trip. I'd venture out as much to say successful! I'm so glad I didn't let the Daydream festival on Day.1 ruin my entire trip and send me home early. Instead, I pushed through, took a chance on strangers who now became friends and had a great fucking time. No regrets here. Do what makes you feel uncomfortable, be open to the new but live in the now.
Tune into
The Metal Mindset Podcast
this weekend. My topic is all about "Emotional Vulnerability" and where that can lead us in life. It goes live Saturday to the public & Friday for my
Patreon
Subscribers.
About Me: My name is Tiffini Truth and I'm a Power Tool Performer!
My album "
Screw You
" Is out Now Streaming Everywhere!
Track 1 – Socket Screw You
I love style and this blog is my way to share my personal style experience with you when I'm not performing my live show in my home studio. I have a weekly Podcast
"The
Metal Mindset
" where you can learn how to have a mindset as strong as steel. "
This Week In Metal
" is my Metal Art Youtube series, Season 1 is streaming now. Season 2 is coming in 2020.
Subscribe to
My Patreon Page
so you too can also get the look for less online with my personal styling advice and much more!
See you next week for more Metal Mouth Style.