The past 2 weeks of staying home, not traveling and getting re-focused on new goals has been of such a great value to me. If you've been following the blog you already know I love to go out. I love to fine dine and I love my wine (and to be wined). However, I'm now finally learning you can grow equally in movement and in stillness. I've actually stayed in for the past 2 weeks and it's been awesome. It takes a fine balance of both going out and staying in to keep this life interesting. I've went through phases my entire life of being a total shut in recluse for years and then being a total party girl for years. Neither works. Which is why this week I'm going to give you your Top 5 reasons To Stay Inn This Weekend. For those of you who need to start striking that balance if you find yourself going out too much. A few other things we will be covering this week are:
1. My favorite personal pizza recipe
2. At home Skincare tips for under $5
3. My staying inn weekend soundtrack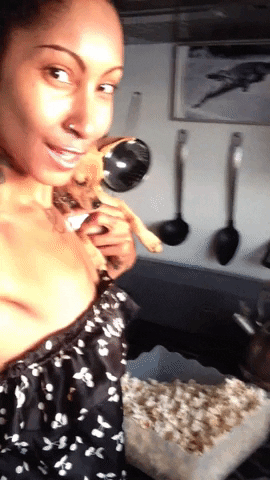 Popcorn Party With California!
Let's get into The Top 5 Reasons To Stay Inn This Weekend first today.
This is always a combination of both mental and physical care. Skin care is part of self care and that's not something to sleep on. No matter what I'm wearing at least 1 face mask a day. I've been doing so since I was 25. That's the age I started to get more serious about my skin care regime. One thing I discovered is how cheap it is to do things in correlation to your skin care at home using ingredients you may already have in your kitchen. Cheaper is not always better but when it comes to skin care the all natural way is usually best for preventive measures. This is why for all skin types (even if your not a daily face mask junkie like me) the weekend is a perfect time to give your face the extra love it deserves.
Enter my Raw Honey Mask! You need to make sure the honey is raw and is not pasteurized for it to give you it's full benefits. You can pick up a jar for around $5 or less depending on where you go (Here in Tijuana it's $3 locally farmed at
Mercado Emilia's
). It's great for deep cleansing, anti-fungal/bacterial, prevents acne and speeds of cell healing. All good things! When your not using the honey on your face you can use it in your tea (instead of sugar) or on your pancakes (instead of syrup).
I do this 3/4 days a week
Click to enlarge
The second part of self care is both mental and physical and that is working out. I cannot stress this enough. Working out needs to be a part of everyone's lifestyle. If we are not conditioning our muscles for use they atrophy very slowly over time. It's 10x harder to reverse years of laziness and excuses than it is to start not making excuses to stay in shape now.
I try to work out in some way/shape/form daily. My body is my machine, it makes me my income being a performer. Therefore, I have to make time to treat it as a vessel that will carry me through my life in good standing order. Whether your a performer or not you still need your body to perform for you. Standing, jumping, walking, and running are things you need to work out to maintain as time goes on. Especially in your thirties. This is the time to set a baseline of strength for your future physical abilities in life. This weekend is a great time to challenge yourself to do something physical. In the time you save at home not going out there's no excuse not to.
Personally, I did some jump squats on the beach last weekend. I didn't think I could land these jumps as the rocks where thigh high on me. However, when you tell your mind to do something before it has a chance to tell your body that you can't you'd be amazed what you really can do!
The best part of outdoor training… It's Free & Less People!
Click to enlarge
Style Breakdown:
2 Piece Set TJ Street Shop: $5
Total Look Cost: $11
2. Cook!
People in general are not cooking enough at home. The convenience of ordering in appeals more than standing and making something for ones self. I myself didn't learn how to cook until I was almost 30! I could barely make spaghetti up until then. I'm no chef but I do like to throw down in the kitchen most days. I feel better when I cook my meals at home which is why unless I'm traveling about 90% of my meals are made at home. Eating out is something I prefer to save for when I'm not home (Or if I run out of groceries & am having a shut in day then I'll use UberEats).
This weekend give yourself a challenge to make something you typically would order in that you love. Don't just make it but tweak it to make it the more healthy way. I found that to be the best way for me to get into a mindset to cook at home. Pizza was by far one of my most regular orders in. Yet, every-time I ate it I would feel like shit and have instant overly processed food regret. For that reason I decided to make my own more healthy whole wheat pizza recipe at home. Oh and it's yeast free so it doesn't require as much rising time. This takes longer to bake than to prepare which is why it's my favorite. The time it takes to order a pizza in with this one you can make your own at home. Guilt free.
Click to enlarge
I don't overly measure things. I like to cook more wild and free so you can estimate how much you'll need for the dough. It's up to you how big/small you want the pizza to be. Just make sure that it's not too watery when you knead the dough. You can add about a teaspoon of Olive Oil to the dough as well if you like. Another key point is to use Olive Oil to grease the pan and then sprinkle the raw flour on top to ensure the pizza doesn't stick to the pan.
Click to enlarge
3. Home Care
Just as important as self care is so is home care. Whether you rent/own keeping your domicile in great shape only enhances your environment. It's so easy to let things pile up and tell yourself that tomorrow you'll organize/clean up that pile of clothes in the corner. For the most part I keep my place in OCD shape. I go a bit mental when things are out of place. I need order in my home at all times.
A couple things I did around the house this weekend was cleaned out my pipes (So glam right?). You can use half a box of baking soda first. Then pour about half a bottle of white vinegar down the drain and let it sit from 30 minutes to an hour before running water again. It's a great all natural (and much cheaper) way to keep nasty smells at bay and prevent clogs in the long term.
Another thing I got to do was finally demolish this pile of clothes that needed to be stored in my actual closet. This pile has been growing week by week over the month of September
since my last trip to LA
in my bedroom. By staying in I was able to finally focus on having my reading area (by reading I mean looking out the window like I'm in
Rear Window
by Hitchcock watching the world go by) back and the clothes organized in my closet.
It's the little things that make the biggest difference in our life
Click to enlarge
4. Spend Time With Animals
I'll preface this with saying if you do not have animals then go out there and find some! Not everyone's lifestyle is conducive to having pets. I get that. You don't have to own animals to spend time with them. Even in urban areas animals are easy to find. Your neighbors for example maybe have a dog you think is cute. Ask to spend time with it! Go to a pet shop/shelter. It's so important to connect with nature and animals. It makes you have a deeper appreciation for life on this planet. That shits important man! Not your phone. The world around you is what matters. Get of of the Matrix and get into the moment.
California & I matched looks on Saturday!
Click to enlarge
Style Breakdown:
Top TJ Street Shop: $2
Cap TJ Street Shop: $4
Total Look Cost: $10
For me staying in means more time to hang out with Baja (My rabbit 2 years old) and California (My new 4 month old puppy).
Baja + California = Baja California
5. Catch Up With Friends
Staying in doesn't actually mean you have to be anti social. One of the best things do to is to catch up with your close friends near/far away. You know there's this really cool feature on your phone. It's the feature most of you now avoid using like the plague… The feature on your phone is the Phone Call option!
What a thought! Actually call someone instead of finger texting them conversations that lack depth and meaning? Woweeeeee.. I highly suggest you try it!
I personally caught up with 2 of my girlfriends on the phone over the weekend who I adore and it really satisfied my craving for social interaction. No amount of emojis' and gifs can make up for a deep, insightful, meaningful conversation with someone you truly care about.
Talking on the phone is fucking awesome! It's only not awesome when your talking to the wrong fucking people. Get into calling people more often. Use the call feature and make time to catch up with the people who are important to you. Not because of how they make you feel but because you care about how they feel.
Being that I've been home more lately I've had time to get into a ton of music that I wanted to share with you this week. These are my top picks from my weekend soundtrack organized by day/mood.
Friday afternoon beach run Soundtrack:
Saturday House Cleaning Soundtrack:
Cooking at home on a Sunday afternoon Soundtrack:
Let's end this week with my favorite looks from last week shall we?
Welcome to Westworld..Tijuana Edition
Click to enlarge
Style Breakdown:
Dress TJ Flea Market: $4
Total Look Cost: $29
The Witching Hour
Click to Enlarge
Style Breakdown:
Shawl TJ Flea Market: $5
Skirt Vintage L.A.M.B TJ Street Shop: (Retail $100) $5
Shoes Agaci: $5
Total Look Cost $19
Oh & check out this steal I found at the Flea Market on Monday in Tijuana! $2 Cowboy Boots!
Click to enlarge
New With Tags Steve Madden Boots Retail $150
Stoked to style these soon for Fall! Hit the Subscribe button to not miss future posts.
About Me: My name is Tiffini Truth and I'm a Power Tool Performer!
My album "
Screw You
" Is out Now Streaming Everywhere!
Track 1 – Socket Screw You
I love style and this blog is my way to share my personal style experience with you when I'm not performing my live show in my home studio. I have a weekly Podcast
"The
Metal Mindset
" where you can learn how to have a mindset as strong as steel. "
This Week In Metal
" is my Metal Art Youtube series, Season 1 is streaming now. Season 2 is coming in 2020.
Subscribe to
My Patreon Page
so you too can also get the look for less online with my personal styling advice and much more!
See you next week for more Metal Mouth Style.